Meet Megan and Whitney Bacon-Evans, also known as "Wegan" of What Wegan Did Next. They are bloggers, YouTubers, LGBTQ+ activists, founders of the Find Femmes dating site, digital consultancy owners, the first lesbian couple to be featured on Say Yes to the Dress UK, as well as writers with bylines in Cosmopolitan, The Guardian, Huffpost, Lonely Planet, Marie Claire, and many others.
Outside of activism, culture, and visibility writing, they have become experts in LGBTQ+ travel, helping their over 140K+ combined followers with recommendations on trips, wedding planning, and honeymoons. INTO got the chance to catch up with the incredibly cordial newlyweds, get some advice on queer wedding traditions (hint: it's a choose your own adventure), get tips on planning otherworldly destination weddings, and get their take on how the travel industry can adapt for queer honeymooners.
INTO: When did you start getting into travel writing and what drew you to it?
Wegan: We have been writing about travel for years in our blog posts as we naturally started as long distance and met when Whitney studied abroad in London. Traveling has always been a part of our relationship; from traveling to each other's countries or trekking to a new destination together like Paris, Portugal or Greece. Our followers loved getting to join us on our travels through our blog and YouTube channel, and we love documenting what we get up to and making recommendations. It's important for us to highlight,  as a lesbian couple, where we feel is safe and also good for LGBTQ+ travellers to visit.
So many people are meeting online these days across the world. You call yourselves "long distance survivors." How many years were you in a long-distance relationship? And what top three tips would you give to readers who are also in one?
Yes indeed, we did long distance for 4 years from Hawaii to the UK (2 oceans and a continent apart). It was incredibly hard, but of course, so worth it. Our top 3 tips to survive long distance are:
You must equally be on the same page that you want this to work and the commitment needs to mutually be there.

Communication is absolutely key. Taking advantage of all the free resources to keep you connected is so important. Make sure you use FaceTime, Skype, WhatsApp, and even good old fashioned hand written letters.

Fix a date

for the next time you will be able to see each other. We found that this helps a lot and keeps you going, knowing that there is a date when you'll be in each other's arms again. Even if it's months down the line!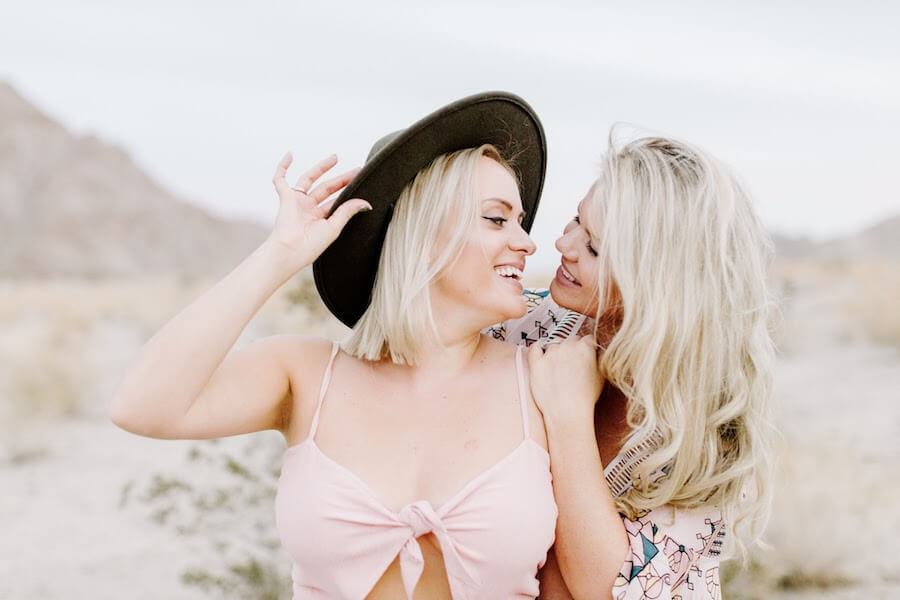 Following your civil partnership in 2012 (with the U.K. getting same-sex marriage in 2013), what made you decide to do a destination wedding?
We just weren't liking any venues in the UK for our wedding. We had been looking for months and nothing felt right. They were too stuffy and old, with often ugly coloured carpet or small rooms. It wasn't until our first trip to Palm Springs, California where we saw a wedding getting set up at the hotel, The Avalon, that we were staying at that we started to get the idea.
Back in the UK we continued our search for venues and the woman showing us around the wedding venue asked what kind of wedding vibe/theme we were after and Whitney replied "umm… Palm Springs vibe?" So, the woman replied "Well… have you thought about getting married there?" Ha! We just thought it was out of the question, but we decided to contact the Avalon to see what the cost was and if it was even feasible. Lo and behold it wasn't too much different from all of the UK costs, and as Whitney is American, and since we already had a beautiful civil partnership at Danesfield House in the UK, it felt right and fair to do something in America.
What were some of the biggest challenges of throwing a destination wedding? And what were the biggest rewards of it?
It was rather overwhelming to plan a wedding in a venue that you had only been at once and not even viewed as a possible wedding venue! Luckily, we were recommended COJ Events as wedding planners. We looked at their portfolio of weddings and loved them all, and then when we found out that the wedding planners are in fact a fabulous married lesbian couple, Cathy and Dorry, it was just the icing on the cake! As soon as we chatted with them on the phone, we were so excited to know that our wedding would be in their hands. Knowing another lesbian couple would be taking care of every detail of our big day really made us not worry.
The biggest reward was walking into our reception area on our wedding day, having fully trusted COJ and their recommended vendors. It looked absolutely spectacular, exactly as we had wanted it. Feminine, chic and classy. We still love it so much!
Why do you think destination weddings have always been a popular option?
I think people are starting to realize that you don't have to be confined to what's around you. You can hop on a plane and fly to your favorite destination, or somewhere that has meaning to you and your fiancée or perhaps your family heritage. Also, I think it adds an extra layer of excitement, of everyone you love coming together in a new place and also giving some an excuse to travel to somewhere they may never had the chance or reason to go ordinarily.
You have a devoted and large following, what are some of the best tips you've given readers and followers about planning weddings?
The biggest lesson we learnt from planning our wedding is make your own wedding traditions. We tried to follow traditional straight traditions that just plain failed. When we started to look for our wedding dresses, we actually ended up being the first lesbian couple on Say Yes To The Dress UK. Megan's mum was with us and she suggested that we should stick to tradition and keep the dresses a surprise from each other for the big day. We hadn't decided what we wanted to do so we thought we'd give it a go.
However, the issue is that as a couple, we do everything together. We're literally never apart. Megan particularly relies on Whitney to help make decisions, so she was finding it harder and harder, and after the 8th dress she tried on she still didn't know what was right. Meanwhile, Whitney had already said yes to the first dress! But this ended up backfiring!  It made us realize that when it comes to a lesbian wedding with two dresses,  we preferred them to complement one another and so it didn't look like we were going to to two different weddings!
We also ended up breaking tradition by sharing a bed the night before the wedding, as being apart didn't feel right. We also originally thought that we would get ready separately but in the end we all got ready together and it was so much fun. We then helped one another into our wedding gowns and instead revealed our dresses to our Bride Tribe and parents. All in all, we learned that you do not have to stick with tradition, and you can do what feels right for you!
What places did you consider for your honeymoon before you decided on Maui?
We considered popular honeymoon destinations, such as Maldives which is particularly popular in the UK. However, we found out that is it illegal to be gay in Maldives, and we didn't want to head to a destination that criminalizes people for loving one another; especially when we're celebrating our marriage! Instead we opted to head back to a place near and dear to our hearts, which is Hawaii. Whitney lived on Oahu for 6 years and we got engaged on our favorite beach there back in 2011.
One of the most controversial aspects of queer travel writing is the debate about traveling to non-queer friendly destinations, what are your thoughts on exploring these locales?
Ah, we find this such a tricky subject. So far we have stuck to visiting places where it is legal to be LGBTQ+. We personally don't want to put ourselves at risk; lesbians tend to have lesser punishments than gay men, but we also don't want to recommend places that would put any of our followers at risk. We wouldn't feel right enjoying a 5-star luxury resort when outside of the gates, gay people are being punished to death.
That being said, there are many LGBTQ+ people that live in countries like this and we don't want them to feel like we don't acknowledge their existence. By completely avoiding these countries, a traveler may be missing out on wonderful experiences, culture and meeting people with incredible stories. We think we'll assess traveling to places where it is illegal to be LGBTQ+ if and when the opportunity arises, and continue to focus on where is LGBTQ+ friendly for now.
What was your experience like on honeymoon within the hotels, resorts, and beaches you visited in Hawaii?
As we were in America for 3 months around our wedding, we found that as couple about to be married, or as a recently married couple, that the majority of places just ignored that we were brides-to-be or on our honeymoon. We even stood their awkwardly in our big 'Just Married' straw hats checking in to a hotel and nothing would be said to us, hardly a congratulations, let alone a bottle of champagne to the room. The only reason it would bother us is because we knew undoubtedly that if we were a straight couple on our honeymoon, we would have been treated very differently.
For example, Megan's sister and husband came out to California for a week before our wedding and pretended that it was their first wedding anniversary. They received complimentary room upgrades, bottles of champagne, macaroons etc. and we received nothing! Funnily enough Virgin came out with an advert that completely resonated with us, that depicted a world where straight tourists were treated the same as LGBTQ+ tourists.
Did anyone notice you were on honeymoon?
We had a wonderful time at Maui Four Seasons. We were greeted with a lovely congratulatory card, rose and champagne. All of the employees of the hotel were very welcoming and didn't bat an eyelid that we were on honeymoon. We loved swimming up to the infinity pool with a frozen mai tai inside a pineapple and watching out the view of the ocean as wife and wife. It was also hilarious in that we got to be known as 'The Bacons' by the other guests at the hotel and the token lesbian couple at the resort. Lots of straight people were coming up to speak with us, even waving from afar.
What can the travel industry do to adapt better to queer couples whether they are traveling for a honeymoon, or vacation?
We would suggest that they pay attention to the booking and if there's same sex names on the booking and they mention it is their honeymoon, then make sure that they then don't get questioned if they want a king bed, or would they prefer two beds! We've heard of couples having to push two beds together every day and the housekeepers would separate them every day. All in all, it's just treating a same sex couple the exact same as any other couple.
Details such as robes in the room, i.e. if it's two women then likelihood is that they may require two short robes. Maybe just supply more options so there is more choice. One of us always ends up looking comical in a long robe draping to the floor, waddling around!
What are a couple things the hotel/travel industry could do at large to be more accommodating?
Two things that the hotel industry could do is to look at their marketing and to make sure they're including LGBTQ+ imagery. Please do not use stereotypical images or cheesy fake shots. Look into using actual wedding or honeymoon images from same sex couples. If they haven't had any same sex weddings / honeymooners then they should look into why this is and how they can market themselves to be more appealing and inclusive to the LGBTQ+ community. This is where our second point comes in, and that's using LGBTQ+ influencers.
We can supply great quality LGBTQ+ content for hotels to use and in turn promote them as a great place to stay. Within this, please do not think you have to create an LGBTQ+ specific influencer trip and find everything 'gay' that there is to do nearby. We often want to do the exact same thing as everyone else — enjoy a great sleep, a yummy cocktail at the pool and a great dinner in your restaurant. Furthermore, LGBTQ+ influencers often get overlooked or simply one token influencer is chosen to join on a trip. It's important to note that the LGBTQ+ travel market is said to be worth over $200 billion. Not one to be overlooked, now is it!
Lastly, what is Wegan doing next?
We of course want to continue to be visible lesbians challenging stereotypes and always be a safe space for LGBTQ+ to confide in. In addition, we have some exciting travel plans coming up, from Scotland to Canada to Florida and many more fabulous destinations. We also will be expanding our businesses further in 2019 and focusing more on some 'secret' projects which we will reveal hopefully in 2019/20.